ICPEP-5, Scientific programme


Click here to Download (pdf)

ICPEP-5 Registration: Special Facility for intending International Delegates

While the process of registration and submission of abstracts for the ICPEP-5 Conference is over, a limited number of individuals from Overseas can still register themselves or even do on the spot registration at the Reception Desk on 24th February 2015 with prior intimation to the Organising Secretaries.
Such individuals can only attend the conference but they will not be able to present any paper. They will however enjoy all other facilities extended to already registered delegates.
Such intending delegates will also have to make their own arrangement for travel and accommodation directly or through our Authorized Travel Agent. (rjtwlko@yahoo.com)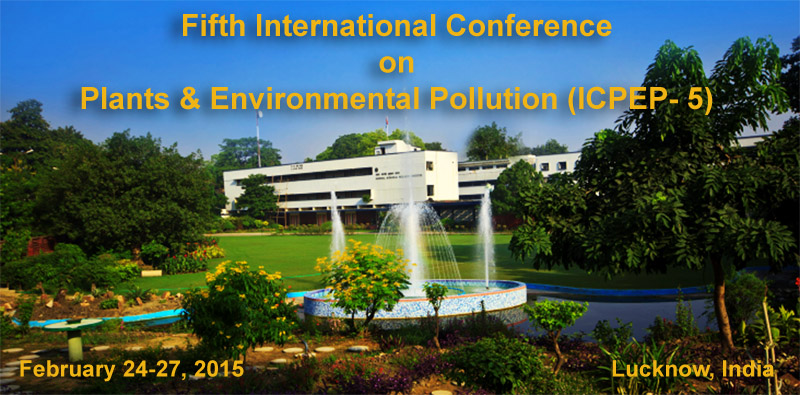 Organized by
International Society of Environmental Botanists (ISEB)
&
CSIR-National Botanical Research Institute (NBRI)

Co-sponsored/Supported by
United Nations Educational, Scientific & Cultural Organization (UNESCO), Paris/New Delhi
International Union of Forestry Research Organizations (IUFRO), Vienna, Austria

Chairman, Organizing Committee
Dr. C.S. Nautiyal, FNA
Director CSIR-NBRI & President ISEB
Contact:
Organising Secretaries (ICPEP-5)
Dr. K. J. Ahmad - Dr. R. D. Tripathi - Dr. Nandita Singh
International Society of Environmental Botanists,
CSIR-National Botanical Research Institute Campus, Lucknow-226001, India
E-mail: isebnbrilko@gmail.com / isebmail@gmail.com
Telephone: +91-522-2297821 (Direct)
+91-522-22205831-35 (PBX)
Fax: +91-522-22205836
Last Date for Receipt of Abstracts and/or Registration forms
10 January 2015
Please click here for
Conference Information, Areas/Disciplines of the Conference, Registration Procedure/Charges, Submission of Paper etc.

Important

Please Note Our New
E-mail ID
isebnbrilko@gmail.com
Please don't send any mail to
isebnbrilko@sify.com
as it is no more functional.
---
Translate this Web Site in
Arabic Chinese French German Italian Japanese Korean Portuguese Russian Spanish
(Please return to original English page before switching to a new language)
---
Random Post
Click For A Random Article From EnviroNews
---
Total Visitors

---
ISEB Website Visitors
Earlier International Conferences Organised by ISEB
Keeping in view its objectives, ISEB in collaboration with National Botanical Research Institute (NBRI), Lucknow, India has been organising International Conferences on Plants & Environmental Pollution (ICPEP) and has till date organised four very successful conferences.
Click on links below to read more about these conferences organised so far;
| | |
| --- | --- |
| | |
| | |
| | |
| | |
| | ICPEP-4 (2010) - Book of Abstracts (pdf format - 2.34 MB) |
---
EnviroNews
| | |
| --- | --- |
| | EnviroNews is official news letter of ISEB and was launched on 1st January 1995. |
| | It is published quarterly every January, April, July & October and caters to a wide range of readers, including those who are not trained scientists but are deeply interested in current environmental issues. |
| | Printed copy of current issues are mailed free to all members of ISEB. (Conditions Apply) |
Update:
| | |
| --- | --- |
| | January 2015 issue of EnviroNews has been released and hard copy of same is being mailed to members. |
| | Click here to view/download the electronic (pdf) version. Please also see note below. |
| | Note: Clicking on the above links will redirect to Scribd web site, which will open in a new tab/window, and the EnviroNews can be viewed and read directly from there. The file can also be downloaded by clicking on the download button shown on that web site. |
Main content of January 2015 issue:
About ISEB
International Society of Environmental Botanists (ISEB) is a non-profit, non-governmental organisation and is a Scientific Member of International Union of Biological Sciences (IUBS), Paris.
Main goals of ISEB are;
| | |
| --- | --- |
| | To promote and coordinate research on plants in relation to environmental pollution. |
| | To encourage better interaction among researchers, teachers, and social activists. |
| | To create awareness, especially among governmental policy makers and industry leaders. |
---
Picture Gallery
Images from activities of ISEB and the International conferences.
Click on the image to view larger image.
Click here to view subject wise photo album of the history, activities of ISEB and the International conferences.
---
Our Bankers